Popular Breed Chicks
The minimum number of chicks needed for shipment is 15
Available January - December
Straight Run (as hatched)
Day Old Pullets (all hens)
Popular Egg Laying Chicks
5
15
25
50
100
5
15
25
50
100
RHODE ISLAND REDS
$16.00
$44.00
$66.00
$117.00
$198.00
$18.00
$51.50
$77.00
$141.00
$267.00
BLACK SEX LINK
$16.00
$44.00
$66.00
$117.00
$198.00
$18.00
$51.50
$77.00
$141.00
$267.00
BARRED ROCKS
$16.00
$44.00
$66.00
$117.00
$198.00
$18.00
$51.50
$77.00
$141.00
$267.00
PRODUCTION GOLD SEX LINK
$16.00
$44.00
$66.00
$117.00
$198.00
$18.00
$51.50
$77.00
$141.00
$267.00
WHITE LEGHORNS
$16.00
$44.00
$66.00
$117.00
$198.00
$18.00
$51.50
$77.00
$141.00
$267.00
Heavy Meat ST. RUn
15
25
50
100
WHITE CORNISH CROSS BROILER
$36.00
$57.00
$85.00
$153.00
FREEDOM RANGER
$43.00
$63.00
$96.00
$150.00
SLOW GROW WHITE CORNISH
$35.00
$51.00
$82.00
$140.00
RED BRO
$36.00
$57.00
$85.00
$150.00
HEAVY MEAT COCKERELS
15
25
50
100
WHITE CORNISH

Cross Broiler

COCKERELS
$41.00
$62.00
$99.00
$170.00
RED CORNISH CROSS BROILER COCKEREL
$34.00
$49.75
$77.00
$125.00
HEAVY SILVER CROSS GREY BROILER COCKERELS (KOSHER KING)
$36.00
$51.00
$80.00
$130.00
Mareks Vaccination - $0.18 per chick Debeaking - $0.18 per chick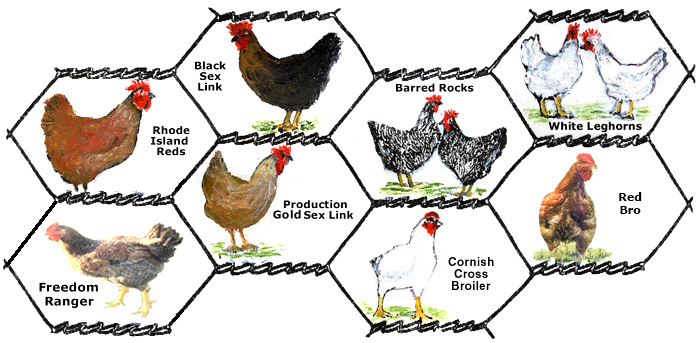 Rhode Island Reds - Very popular dual-purpose breed. Used mostly for egg production. Very good layers of large brown eggs. Rich dark red color.
Barred Rocks - Also a popular dual-purpose breed. A very good layer of brown eggs yet can be used for meat. Barred, black, and white color.
Production GOLD Sex LinkS - A commercial brown egg layer cross. Excellent layers of large brown eggs with great feed conversion.
Black Sex Links - A cross using Rhode Island Red males and Barred Rock females. Very good layer of brown eggs. Hens are black with gold hackles and neck feathers.
White Leghorn - A small white chicken that is an excellent layer of large white eggs.
Red Cornish Cross, and Silver Cross Grey Broilers - Our meat chickens grow fast and are great for pasture-raised operations. Do not have the leg or heart problems and are good grazers. At 8 weeks the weight is 5 lbs., at 10 weeks the weight is 7 lbs., and at 12 weeks the weight is 8 lbs. Very tasty.
FREEDOM RANGER - Multi-colored chickens bred for free-ranging operations. 5 - 6 pounds live weight in 9 to 11 weeks. Straight run only.
White Cornish Cross - A fast growing production meat bird with a large breast, legs and thighs. Excellent feed conversion. Should average 5 pounds live weight in 7 to 8 weeks.
SLOW GROW WHITE CORNISH - A very good choice for pastured poultry producers. Excellent livability, flavorful meat, and light colored feathers. Weight of 6.5 pounds by 9 - 11 weeks.
RED BRO - Here is another choice for free-range meat chicks. We offer these as St. Run only. In 9 to 11 weeks they should average 5 to 6 pounds.
Goslings | Ducklings | Popular Breed Chicks | Turkey Poults
Guineas | Game Birds | Bantams | Rare Breed Chicks | Poultry Safety
Home | Books | Equipment | Brooding/Raising | Our Guarantee | Shipping/Handling | Order Form | Contact Us