Turkey Poults

Turkeys get large and grow fast. Start them on a grower crumble.
Baby turkeys thrive on the stimulation they receive from
the reflected heat of a 250 watt heat lamp.
This also applies to Guineas and Gamebirds.
Turkey poults -

April thru July

Straight Run Only

8
15
25
50
100

broad breasted whites

$46.00

$79.50

$122.00

$215.00

$375.00

Broad breasted bronze

$50.50

$90.00

$137.50

$255.00

$480.00

bourbon red

$157.50

royal palm

$157.50

Standard bronze

$157.50

chocolate

$157.50

10

20

EASTERN WILD TURKEYS (Apr. thru June)
$130.00

$245.00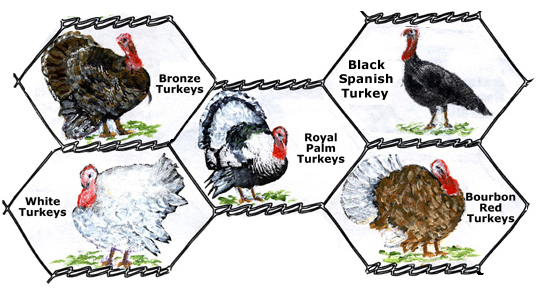 OUR BROAD BREASTED WHITES and BRONZE are bred for exceptional growth, and fast gains. Excellent feed conversion and livability. Our customers rave about the size of these turkeys. Raise a flock of these beauties for holiday marketing.
BOURBON RED TURKEYS - Rich chestnut plumage. Active foragers, usually do well in pasture based production systems. Heavy breast and rich flavored meat. Toms weigh 33 lbs. and 10 lbs for the hen.
ROYAL PALM TURKEYS - They are a smaller, thrifty and active turkey. White with a metallic black edging on the feathers. Mature Toms weigh 22 lbs. and 12 lbs. for hens.

chocolate turkeys

- Named for its color. Weights are about 30 lobs. for toms and 18 lbs. for hens. This is a beautiful heritage breed.
standard bronze - This is the old fashioned bronze turkey that will reproduce naturally. They do not grow as fast or as heavy as the broad breasted bronze. They are a good choice for your farm.
Eastern Wild Turkeys - These wild turkeys are a popular game bird native to the eastern half of the United States. They are colorful great flyers and very hardy.
Goslings | Ducklings | Popular Breed Chicks | Turkey Poults
Guineas | Game Birds | Bantams | Fancies | Poultry Safety
Home | Books | Equipment | Brooding/Raising | Our Guarantee | Shipping/Handling | Order Form | Contact Us